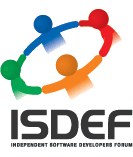 Recently Ruslan Savchyshyn, the director of MagneticOne took part in the
ISDEF Spring 2011 conference
. Ruslan Savchyshyn made a speech about effective promotion of software products. The conference took place on April 22-24 in Kiev. It was organized by
ISDEF
, Independent Software Developers Forum.
The ISDEF Spring conference was held in a form of round tables and covered various aspects of software development business — from legal issues and human resource management to PR and marketing. The conference was attended by over 200 participants from different areas. A friendly atmosphere encouraged people to face-to-face communication, sharing of experience and establishing personal contacts.
In his speech Ruslan Savchyshyn shared practical experience of software development and promotion, namely the usage of Social Media, video-marketing, SEO, PR. The audience was especially impressed with a new analytics tool for software developers - Software Statistics Service.
Software Statistics Service
helps software developers to better understand what happens to their software after it was downloaded. It tracks desktop software usage and collects information about the number of its downloads, installations. How many times a user runs it? If a user starts it - is he using it more than once? Is he really engaged with it? What parts of the software are used (modules, forms, sections), how often? This information allows software developers to create solutions that respond to users needs, improve marketing strategies and thus significantly increase the profit.